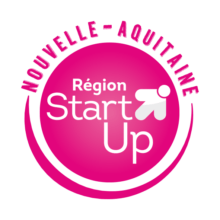 NOUVELLE-AQUITAINE
/ REGIONAL START-UPS
Leadership: e-health, video games, virtual and augmented reality
French Tech:
5 labels +
1 metropolis
Top French region for the job growth in the digital sector
€850M of investment funds
Four Reasons

to set up in Nouvelle-Aquitaine
Start-up Doing
Business Here
Specialized Partners

for Your Project

Several organizations specialized in innovation, research and development are present in Nouvelle-Aquitaine. This dynamic ecosystem provides a vector of opportunities for businesses in the implementation of their project and their business! Networks, partners, product innovation support, are among the many services and areas of expertise provided by these stakeholders to support the development of your business.
Competitiveness Clusters
Agri Sud-Ouest Innovation | agriculture, agri-food industry, fishing: agro-refinery, high-performance production systems, optimization of inputs
Cancer Bio Health | biotechnologies, health: nutrition and health, molecules of interest for therapeutic and diagnostic applications in cancerology, technological innovations, home support
Avenia | green growth: geosciences
S2E2 | green growth: renewable energy
Xylofutur | forestry, wood, paper: resource management and mobilization; processing of wood for materials (construction, furniture, packaging); fibers and chemicals (bio-fuels, nano-cellulose, composite materials
Pôle Européen de la Céramique | materials, mechanical engineering, electronics: ceramic applications for luxury goods, energy systems electronics-optics-photonics, health, environment
Viaméca | materials, mechanical engineering, electronics: design, production and integration of intelligent mechanical systems
ALPHA-Route des Lasers et des Hyperfréquences | hyperfrequencies, photonics, digital systems, lasers: Photonics-laser, electronic-microwave for health, aerospace and defense, security and intelligent-building energy
Aerospace Valley | Aeronautics, Space, Embedded Systems: airframes, materials, processes; energy and electromechanical systems. Solutions for air transport; telecommunications, observation, positioning; embedded systems, connected objects, software, and electronics; human-system interaction; factory, support/MOC/MRO and redevelopment; modeling, simulation, data analysis
Id4car | transport, aeronautics, space: vehicle materials, embedded systems intelligence, uses and industrialization, ICT for mobility applications
Other Clusters / Business Networks
A hundred clusters or networks operate in the region. These players are real unifiers, concentrating energy in their respective sectors, and providing service and support to their member companies. They include:
Aeronautics, Transport
Aerocampus: aeronautics maintenance
Aetos: drones
Topos: intelligent transport, geolocation, precision agricultural services
Aeroteam: aeronautics
AVERE: electrical mobility
Digital Systems
Aquinetic: open software
Digital Aquitaine: health ICT, geolocation, e-commerce, innovative uses of data, hardware
CRITT Informatique: digital simulation, augmented reality
SPN: digital systems
Imagery, Games, Video
Bordeaux Games: gaming, serious gaming, gamification
Magelis image complex: digital systems, imaging
Green sectors, ecotechnologies
Aquitaine sustainable chemistry: green chemistry
Aquitaine green growth: sustainable development
Sysolia: solar energy
Institut de la chimie verte: green and sustainable chemistry
Pôle des éco-industries: eco-activities
Pôle environnement limousin: eco-activities
Biotechnologies, Health
Cluster TIC Santé: e-health, information systems, technology for home support
Biopôle Santé: pharmaceuticals, well-being, medical devices
Pôle Aliments Santé: nutritional health
Invivolim: biotechnologies
Autonom'lab: e-health and aging, adaptation of living spaces, maintaining autonomy
Robotics
Aquitaine Robotics: robotics
Targeting business creators, these facilities offer services, support and premises. Each one is designed to meet the needs of a company at specific stage in its development, consequently aiming to meet the expectations and challenges of start-ups. Several of these organizations have developed or been created in Nouvelle-Aquitaine, including:
Business Incubators
AVRUL
ETINCEL
Incubateur Régional d'Aquitaine
ESTIA
Auberge Numérique: digital systems
Pulseo: geolocation technologies and satellite applications
Agropole: agri-food industries
Bordeaux Technowest: aeronautics, space and defense
M3: ecotechnologies, biotechnologies, health, digital systems, electronics
Novapôle: agri-food industries and biotechnologies
StarTech: Electronics, photonics, optics, IT
Créatio: services, imaging and ICT, production, eco-activities, food, technology and energy transition
CEI (Futuroscope)
Agropole Entreprises: agri-food industries
Domolandes: sustainable construction, digital systems
Eurêka: services to businesses, composite materials, plastics, industrial and automation mechanisms, studies and production of tools, packaging and engineering
Eurolacq Entreprises: industrial companies, service to industry
Pulseo: technologies of geo-location and satellite applications
Pépinière Bordeaux Unitec: digital systems, bio-health, engineering sciences
Pépinière Bordeaux Montesquieu: ecotechnologies-environment, biotechnologies-health, wine prouction, digital systems, ICT, electronics
3 incubators at Helioparc: GEOSTART (geosciences), L'Atelier Numérique (digital systems), UPbyHelioparc (energy, environment)
EcoCréative Bordeaux Chartrons: creative economy, ICT, eco-activities
Le Campement: sustainable development, usage innovations
Newton: eco-activities
Accelerators
Accélérateur Régional: in the start-up phase
La Banquiz: open software and technologies
1Kubator: digital systems
Héméra
33 Entrepreneurs: wine, tourism and agri-foods
Tech parks
Ester Technopole: electronics, optics, telecommunications; ceramics, materials and surface treatments; water and environment; biotechnology and health; engineering
Bordeaux Technowest: aerospace and defense (Aeroparc), eco-activities (Ecoparc), Eco-transport-urbanism (Newton)
Technopole Bordeaux Unitec: technology and digital uses, health life sciences, technologies and engineering sciences
Technopole Bordeaux Montesquieu: environmental technology, biotechnology, electronic digital, wine
Technopole Helioparc: Geosciences and petroleum, digital engineering, energy, environment
Technopole Domolandes: sustainable construction and digital systems
Agropole: agri-foods
Technopole du Futuroscope: digital systems
Grand Poitiers Technopole: health, transport, tourism, environment, digital technologies
Technopole Atlantech: sustainable construction
Technopole Côte Basque: digital systems, aerospace & advanced materials, sustainable construction, technologies and ocean-based industries
Technopole Agen Garonne: water, logistics, agri-food industry
The universities and engineering schools in the region offer specialized curricula in the sectors of the future and serve as springboards for business development or start-up integration.
6 multidisciplinary university complexes
23 prestigious engineering schools
697 educational programs in digital systems: design and web specialisations, programming-administration and operations, developer and integrator, cinema, maintenance and support
Selection of Sites Dedicated to
Start-up
Une région accessible
Frontalière avec l'Espagne, la Nouvelle-Aquitaine bénéficie d'une position stratégique sur le corridor logistique Nord-Sud européen.
Dotée d'un réseau de transports diversifié et moderne, la région est facilement accessible depuis les capitales économiques françaises et européennes, permettant aux entreprises d'être à proximité de leurs marchés :
Aéroports
11 aéroports dont 7 internationaux
Plus de 60 liaisons internationales quotidiennes ou hebdomadaires
Nombre de lignes low-cost en croissance
Réseau ferré et autoroutier
LGV SEA (Bordeaux > Paris en 2h)
Réseaux autoroutiers nord-sud et est-ouest
Ports
4 ports de commerce
300 ports desservis dans le monde