OUR SELECTION
TURNKEY INDUSTRIAL SITES ARE YOU LOOKING FOR BROWNFIELD OR GREENFIELD TO SET UP YOUR INDUSTRIAL ACTIVITY?
The NOUVELLE-AQUITAINE DEVELOPMENT AND INNOVATION AGENCY has selected for you 13 ready-to-use industrial sites TO QUICKLY BUILT YOUR PLANT.
The administrative procedures relating to urban planning, preventive archaeology and the environment have been anticipated in order to enable the authorizations required for the establishment of a new factory or R&D center to be processed within a reliable and controlled timeframe. Thus, a building permit can be issued in less than 5 months and an environmental permit obtained in 9 to 10 months, or even less. These sites also benefit from an attractive territorial environment: accessibility, networks, services, infrastructure, etc.
Ready-to-use industrial sites have been chosen for the quality of their buildings, the utilities they offer, their services or the ecosystem in which they are located.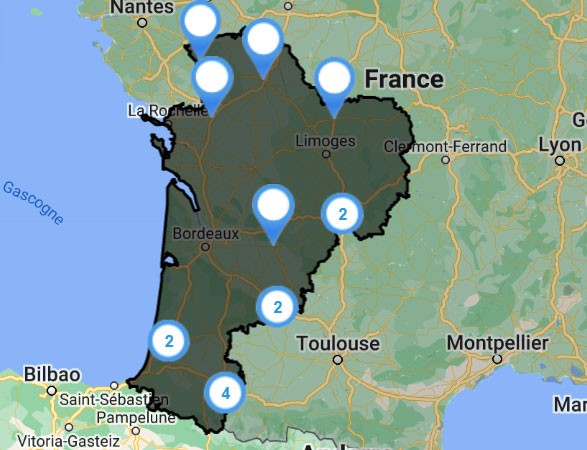 OUR GUARANTEES
A diversified ecosystem of subcontractors and suppliers
Accessibility: multimodal access
A qualified local workforce
Training centers, laboratories, etc.
Local services