 LE TOURISME EN LIMOUSIN

Un subtil mélange entre traditions et modernité…
Fort de son passé, le Limousin a gardé un fort héritage monumental et architectural avec de nombreux vestiges gallo-romains ou médiévaux. De nombreux savoir-faire sont également mis à l'honneur, notamment à Aubusson, avec la Cité de la tapisserie, ou à Saint-Junien, ville connue pour son travail du cuir. La porcelaine et les arts du feu demeurent des éléments représentatifs du patrimoine limousin. Les amateurs de sports pourront venir encourager le Limoges CSP, champion de France de basket ou le Top 14 avec le CAB.
LES SPÉCIALITÉS ÉCONOMIQUES DU LIMOUSIN
Le Limousin saura satisfaire tous les vacanciers : ceux cherchant la tranquilité, les touristes désireux de passer des vacances en famille, les personnes à la recherche d'aventure ou voulant découvrir l'éco-tourisme. Le Guide Vert Michelin Limousin-Berry a d'ailleurs accordé une deuxième étoile à Limoges pour la richesse de son patrimoine.
Capacité d'accueil
de 355 000 lits
Un chiffre d'affaires de
500 millions de consommation touristique.
16 millions de nuitées
ont été réservées
Un chiffre d'affaires de
380 millions d'euros généré.
+ DE 300 ANNONCES DISPONIBLES, TROUVEZ LA VÔTRE !
NOS SERVICES AUX ENTREPRISES
ILS ONT CHOISI LE LIMOUSIN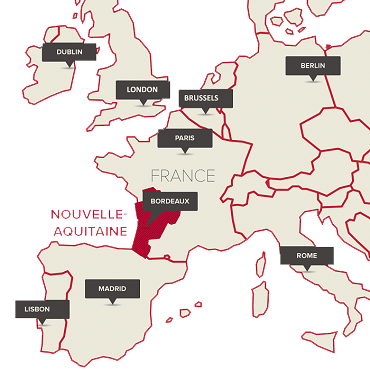 An
Accessible

Region

Nouvelle-Aquitaine, on the Atlantic coast and bordering Spain, is strategically located on Europe's North-South logistics itinerary. With extensive, modern transportation infrastructures, the region is easily accessible from European economic capitals, putting companies close to their markets:

Airports
11 airports, 7 serving international destinations
Over 60 international routes with daily or weekly service
Growing number of low-cost airlines
Road and Rail Network
LGV SEA (Bordeaux - Paris in 2 hrs.)
North-south and East-West expressway networks
Ports
4 ports of trade
Links to 300 ports worldwide
DES COMPÉTENCES PRÉSENTES EN RÉGION

Les professionnels, peuvent suivre des formations dispensées par le Comité Régional du Tourisme sur différents thèmes : l'éco-tourisme, l'accueil des clientèles en situation de handicap ou encore l'accueil des familles en Limousin.